Project Overview
The Town of Cary will be rehabilitating major sewer lines that have reached the end of their service lives along the Crabtree Creek Greenway and portions of the Black Creek Greenway. The rehabilitation work is essential so that the Town can maintain its infrastructure and protect the environment. The Crabtree Creek Greenway/sewer rehabilitation will run from Evans Road to the Old Reedy Creek Road Trailhead. The project will begin in the late summer of 2021, concluding in 2022. The Black Creek Greenway sewer rehabilitation will occur between 2022-2023 from the Old Reedy Creek Road Trailhead at I-40 south to West Dynasty Drive.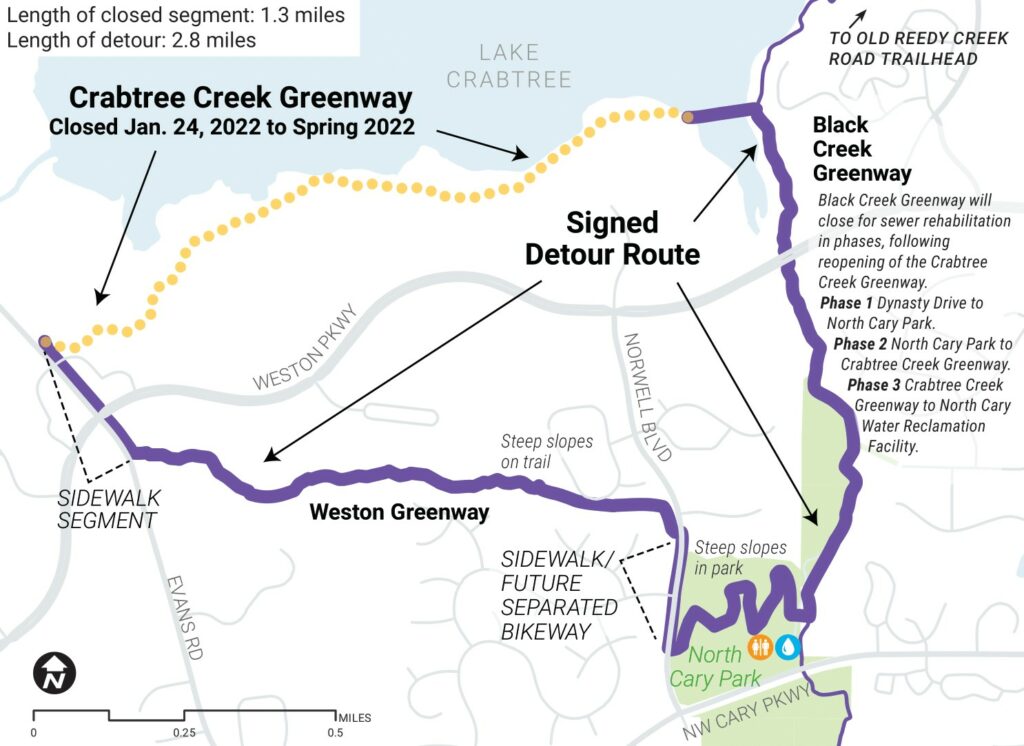 In addition, following the Black Creek sewer rehabilitation, the greenway will then undergo a renovation project, restoring 2.5 miles of greenway from Old Reedy Creek Road to West Dynasty Drive. The greenway will be upgraded to meet current greenway standards and elevated in flood prone areas to improve improving trail resiliency.
The single most important strategy is to minimize trail closures, impacting only one greenway at a time and deploying detour routes for greenway users. These projects involve careful sequencing so that greenway closures can be minimized. Information about trail closures and trail detours are provided (see further information below).
Sequence of Operations
1
Rehabilitate Crabtree Interceptor
Calendar Year 2021-2022
2
Rehabilitate Black Creek Interceptor
Calendar Year 2022-2023
3
Repair & Renovate Black Creek Greenway
Calendar Year 2023-2025
Construction Timeline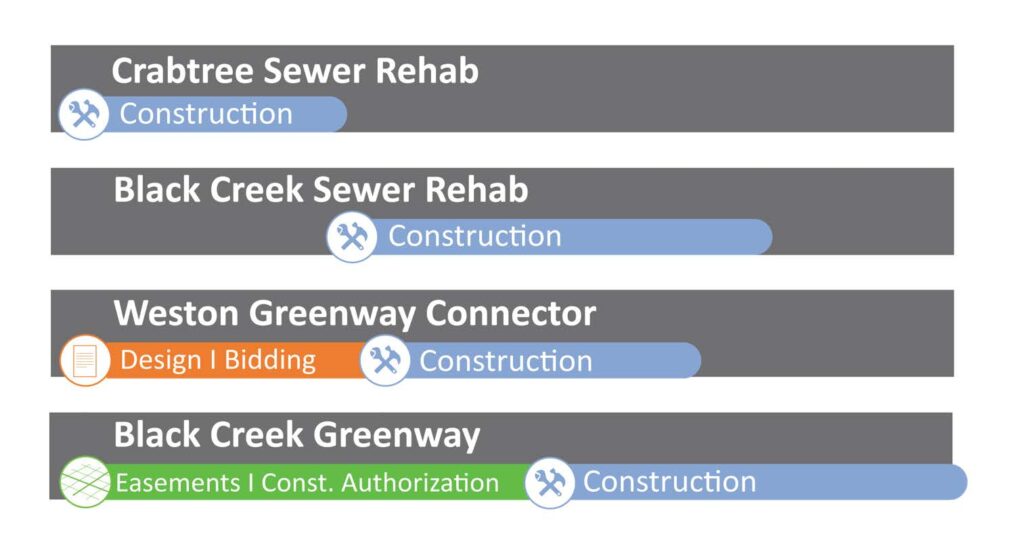 Greenway Detour Routes
During the sewer rehabilitation projects, greenway users may use detour routes that provide connectivity to commuter and recreational destinations. These detour routes will follow a combination of existing trails and roadways, and signage will be provided to guide trail users.
Crabtree Creek Greenway + Detour
Jan. 24, 2021 through June 2022
Greenway Distance (Evans Road to Black Creek Greenway): 1.3 miles
Detour Distance: 2.8 miles
Greenway Detour Information (coming soon)
Black Creek Greenway + Detour
2022-2024
Coming Soon
Interactive Map
Contact